I'm putting together a bunch of vegetable recipes to share. Before you know it (fingers crossed) a whole list of easy to make veggie dishes will appear when you click right here.
For now though, let's start with some veggie talk...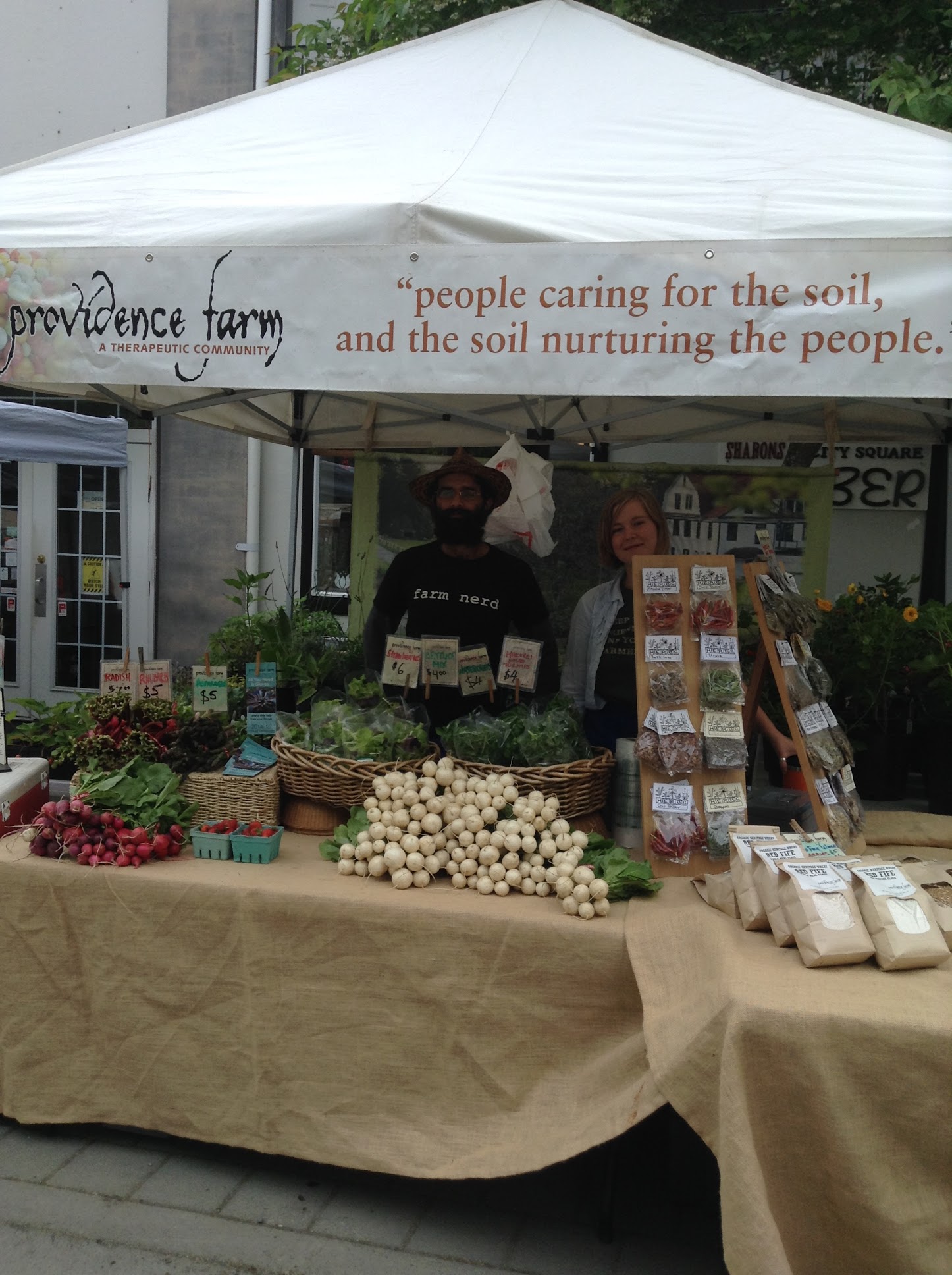 Farmer Abe from Providence Farm at the Duncan Farmers Market
I prefer to eat and cook with fresh vegetables as much as possible.
My second choice is frozen. They can be a great off season alternative to fresh, they are available all year round. Which means, we don't always have to wait for summer to enjoy a great tasting broccoli dish or the spring like taste of baby peas.
Nothing beats fresh for eating raw though. So, I try to eat and cook with veggies that are in season. This also happens to be when the prices are lowest. I also do my best to buy locally grown. Please, support your local farmers. 
I'm pretty lucky when it comes accessing fresh local veggies at reasonable prices. We have a lot of farmer markets surrouding us in the Cowichan Valley.  In fact, one of the biggest Saturday markets in British Columbia is just minutes away from home. 
The Duncan Farmers Market is open every Saturday all year long and at last count has over 150 vendors. I enjoy my saturday outings to the market.
We have the ability to buy directly from farmers and farm markets. A short car ride away in either direction we have Russell Farms Market & The Old Farm Market. 
And, summer through fall there's also Grandma's garden to pick from.
Rarely do I use canned vegetables from stores. Though, I will include a quick canned vegetable recipe or two. Because, in a pinch sometimes canned veggies are the only option. So, why not spice them up a bit? 
Select small, young vegetables whenever you can. They have the sweetest taste and crispiest texture. As tempting as it may be to get more bang for your buck by buying the biggest vegetable, or the older tired vegetables on clearance, sometimes it just isn't worth the loss flavour, texture and freshness.

For example, a tiny young carrot is wayyyy better tasting than a foot long giant overgrown one. 
Though, when it comes to soups and stews, you can put those clearance rack veggies to some tasty use. 
When it comes to frozen, quality is really important. Try to buy brands whose vegetables are frozen within hours of being picked. Some of the vegetable recipes will look at creative ways to cook with frozen.
Also in the works a...
With information like...
Check back often. Better yet sign up to be notified whenever something new is added to Fun Ways to Heal. 
Here's the plan so far...
I'm escaping Fibromyalgia pharmaceutical hell and setting out on a journey of finding fun ways to heal.

The escape is being planned and the map is being plotted at this very moment. Don't get left behind! Subscribe to stay up to date on the happenings at Fun Ways to Heal.