Carrot Recipes

Easy to follow Carrot Recipes aka fun ways to serve carrots.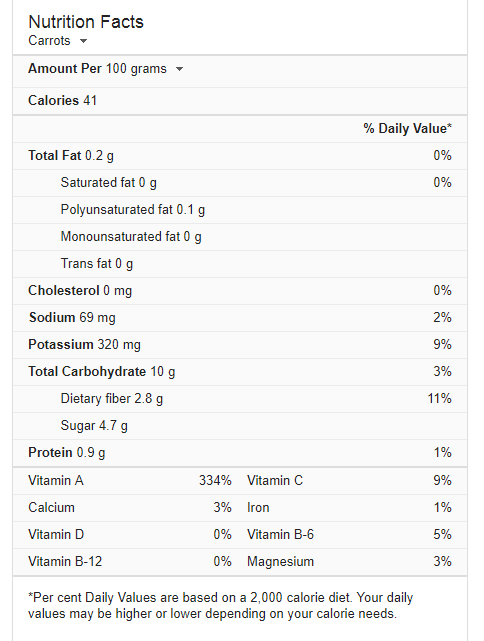 Ever notice how sometimes changing things up, even just a little, can make the same ol' same ol' that wee bit more fun?
Take carrots for example. I've always had cooked carrots cut up, sometimes sliced and sometimes diced. But, always cut up in some shape or another.
Then one day I was surfing for some ways to liven up my boring old carrots and I saw a recipe calling for whole cooked carrots.
It had never occurred to me to cook them whole, unless they were very young baby carrots. And, so now I have tried cooking carrots of all sizes whole. Plus, now that I don't have meat on my plate it gives me something substantial to slice in place of the meat.
Here are three other fun ways to serve carrots...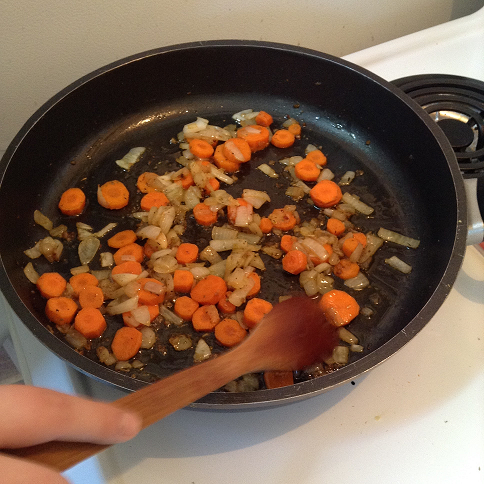 Easy Carrot Recipes
Baked Carrots
12 carrots 

4

   

tablespoons butter

 

1/4 cup minced onion 

1 teaspoon salt 

1 teaspoon sugar 

1/4  teaspoon ginger 

1/3 cup light cream
Scrape the carrots and quarter them lengthwise. Melt 2 tablespoons butter in a baking dish; arrange the carrots in it. Sprinkle with the onion, salt, sugar and ginger, and add the cream. Cover and bake in a 375° oven 30 minutes, or until tender. Remove the cover for the last 5 minutes. Serves 4-6.
Braised Carrots
4 cups thinly sliced carrots

1/3 cup water

3 tablespoons butter

1 teaspoon sugar

1 teaspoon salt

1 tablespoon minced parsley

1/4 teaspoon freshly ground black pepper
In a skillet, combine the carrots, water, butter, sugar and salt. Cover and cook over low heat 20 minutes, or until tender. Shake the pan frequently. The water should have evaporated and the carrots should be coated with the butter. Sprinkle with the parsley and pepper. Serves 4-6.

Orange Glazed Carrots
12 carrots 
4

   

tablespoons butter 

1 ½ tablespoons sugar
¼ cup orange juice
3

  

whole cloves

¼ tsp salt
2 tablespoons minced parsley
Scrape the carrots and cut in quarters, lengthwise. Cook in boiling salted water 10 minutes, or until tender but firm. Drain.
Combine the butter, sugar, orange juice, cloves and salt in a skillet. Cook until butter melts; discard the cloves. Add the carrots; toss over low heat until carrots are coated. Sprinkle with the parsley. Serves 4-6.
A depiction labeled "garden" carrot from the Juliana Anicia Codex Wikipedia
Did you know that the carrot plant itself is actually an herb and that the orange part that we eat is its root? In fact, they were originally grown for their leaves and seeds, not the roots.
And, contrary to popular belief, carrots do not help you see better in the dark. That's more than likely just some left over UK war propaganda.
It's believed that wild carrots originated from Persia areas that are now Iran and Afghanistan.  In 2014 China grew 45% of the world's carrot crops. 
Well, can't exactly have a carrot recipe page without one for cream of carrot soup. Let's wind this vegetable recipe page down with one heck of a yummy soup mmmm....
Carrot Soup Recipe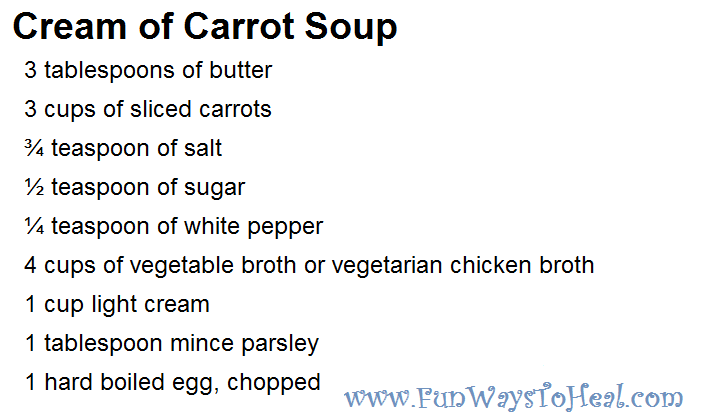 Melt the butter in a saucepan; add the carrots, salt, sugar and pepper.
Cook over low heat 10 minutes, stirring frequently.
Add the broth; cook over low heat 30 minutes.
Puree in an electric blender, or force through a sieve.
Mix in the cream and taste for seasoning.
Serve hot or iced, sprinkled with the parsley and egg.
Serves 4-6.
Back to the top of Carrot Recipes page
Other Vegetable Recipe Pages
---
Here's the plan so far...
I'm escaping Fibromyalgia pharmaceutical hell and setting out on a journey of finding fun ways to heal.

The escape is being planned and the map is being plotted at this very moment. Don't get left behind! Subscribe to stay up to date on the happenings at Fun Ways to Heal.