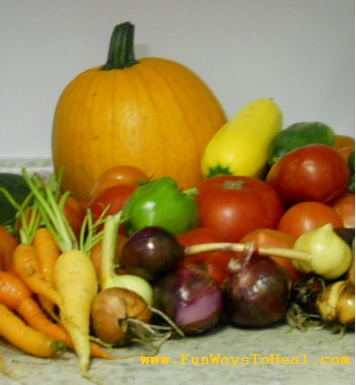 What's growing here is a list of of all the easy vegetable recipes on the Fun Ways to Heal Website.
Check back often because the veggie recipe list is growing like a well tended garden.
I have a ton of veggie recipes that I'm eager to add to the site. I was having a hard time deciding what order to go in. Should I just go for it alphabetically or start with healing vegetables recommended in the Medical Medium Thyroid Healing book?
I've been living with Graves Disease since my early twenties and when a friend told me about Anthony Williams aka the Medical Medium's latest thyroid book I put it on my gift wish list. And, just like that my sister got me the book ;) 
As it turns out, starting with artichoke recipes works for both.
Here's the plan so far...
I'm escaping Fibromyalgia pharmaceutical hell and setting out on a journey of finding fun ways to heal.

The escape is being planned and the map is being plotted at this very moment. Don't get left behind! Subscribe to stay up to date on the happenings at Fun Ways to Heal.